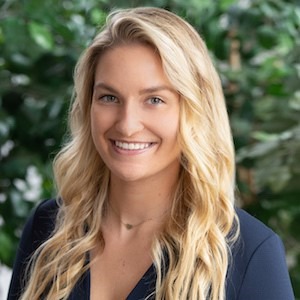 A skilled negotiator and excellent communicator, Courtney Austin is a reputable real estate professional with native ties to the New England region. Growing up in New Hampshire, she learned the lay of the land early on before moving to Portland, Maine, and then later to Boston, Massachusetts. Almost three years ago, while living in Boston, Courtney began working at Compass and officially became a licensed agent.
Recently, she returned to Maine and now resides in Kennebunk, where she primarily serves the state's diverse southern communities. Having relocated from state to state more than once throughout the northeast, Courtney has first-hand knowledge of the transition process. She is happy to provide her clients with valuable insight into the best neighborhoods, schools, market trends, and communities. 
Despite relocating from Boston to Kennebunk, Courtney maintains her license with Compass and credits them with helping her grow into the ambitious, detail-oriented realtor she is today. With locations in every major city, Compass gives Courtney the chance to preserve an extensive reach. While Courtney enjoys working for a small boutique firm because it allows her to offer clients personalized, concierge-style service, she simultaneously maintains an extensive out-of-state network. These essential connections benefit Courtney's client base, as it means she has more resources and intel to utilize when buying and selling her client's homes.
Above all, Courtney relishes the opportunity to meet and assist new people every day. She loves listening to clients describe what they're looking for and then helping them turn that vision into a reality. There is no better feeling than the pure joy Courtney gets from handing someone the key to their dream house. Throughout her years in the business, she has fostered lifelong friendships with clients and fellow agents, all of which she holds in high esteem.
When you hire Courtney, you'll also benefit from her background in home organization and interior design. She has a strong creative vision and a keen eye for aesthetics and architecture. Ultimately, whether you're looking for a modest ranch-style house or a luxury beachside estate, Courtney brings the same level of attention and professionalism to each transaction. 
Outside of work, Courtney loves taking advantage of all the outdoor activities Maine has to offer, including taking her dog for long walks on the trails and beaches. As a dedicated philanthropist, Courtney is also in the process of developing a nonprofit organization she hopes to launch sometime next year.